Who can use this feature?
Pike13 Plan:
✓ Enterprise
✓ Pro
✓ Business
Role:
✓ Primary Owner
✓ Owners
✓ Managers
✓ Staff
✓ Limited Staff
In your Pike13 business you can quickly see which clients have failed payments, payments due, no plan or pass to pay for the service, incorrect email addresses (or emails that have bounced), or an unsigned waiver.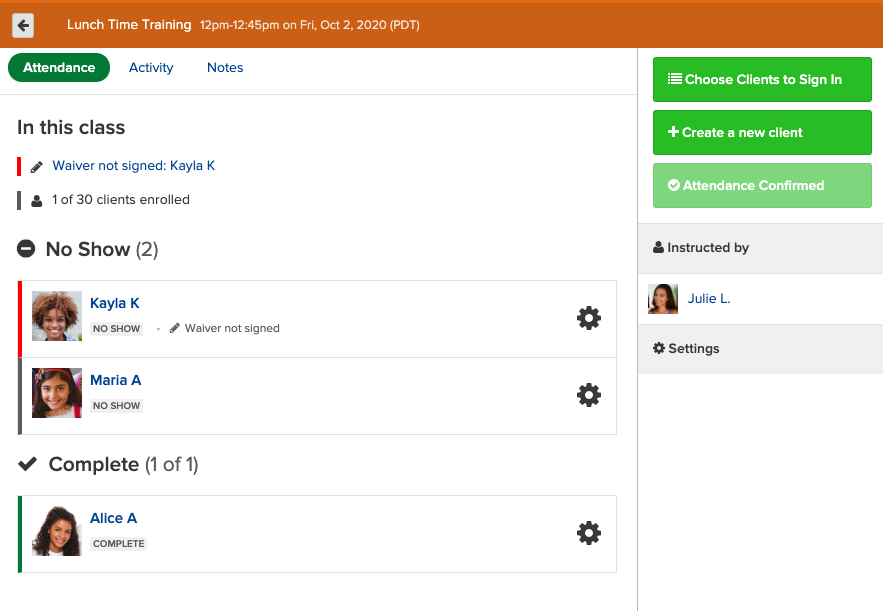 In the Roster, Pike13 notifies you if a waiver is unsigned or a bill in unpaid. Showing you alerts on the roster allows staff to resolve issues right away. If your business lets clients enroll directly using the Client Kiosk, they're alerted to contact a staff member to help them resolve the issue.
Within the roster, clients can be marked as
INCOMPLETE
a client appears as incomplete if the event has occurred and attendance has not been taken yet
UNPAID
a client is marked as unpaid if they have been marked as attended but do not have a pass or plan to pay for this visit
COMPLETE
a client is marked as complete if they have been marked as attended and have a pass or plan to pay for this visit
LATE CANCEL
a client is marked as a late cancel if they have chosen to cancel their attendance within the time that you have set in your cancellation policy for this service. If a client cancels before the time limit, they will be removed from the roster.
NO SHOW
a client can be marked as a no show if they are still on the roster but did not attend the event.
Checking in through the Client Kiosk
If your clients have been checked in already (either from the Client Kiosk or by clicking the green checkmark to the right of each client name in the roster), you see them listed either as COMPLETE or as Unpaid with a shopping cart icon. Clients marked as COMPLETE are confirmed but might still have past issues needing resolution. To cover the visit for those clients who are unpaid, you can sell clients a one-visit pass, a multiple-visits pass, or a membership plan by clicking the shopping cart button.