Many businesses that use Pike13 allow clients to book an appointment for a private lesson. Depending on the business settings, you maybe required an applicable plan or a credit card on file in order to book. Pike13 will ask you for the required info when appropriate.
In this article
Booking an appointment
Login to the Client App/Branded App
Select Services
If you wish to enroll your child or someone you manage, click on Managing at the top.

From here choose the person you wish to book.

Select Appointments
Click on the type of appointment you wish to book.
Choose the day you wish to book from the schedule.

Click Book next to the time you wish to attend.

From click Book Appointment to complete your enrollment or click Cancel if you do not wish to book this time.
If you do not meet the enrollment requirements, you will be asked to either Buy a pass or plan or Add a Credit Card. You will be prompted to complete this step in order to book your appointment
Canceling an appointment
Log in to the Client App/Branded App.
Click on Activities.
Under Upcoming Activities, scroll to the appointment you wish to cancel your registration for.
Click Leave or Cancel.
Confirm you wish to cancel by clicking Cancel Appointment.
Warning
Late Cancel
When you click to Cancel your upcoming appointment and it shows "Late Cancel", you may be charged a fee or have a visit deducted.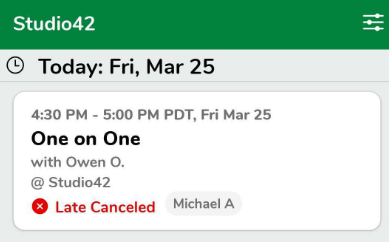 This will depend on this particular business's cancellation policy. If you have questions about their policy, please reach out directly to the business.