Who can use this feature?
Pike13 Plan:
✓ Premium
✓ Advanced
✗ Essential
Role:
✓ Primary Owner
✓ Owners
✓ Managers
✗ Staff
✗ Limited Staff
The Facebook pixel is the code that you place on your website. It collects data that helps you track conversions from Facebook ads, optimize ads, build targeted audiences for future ads, and remarket to people who have already taken some kind of action on your website.
In this article
Create a Facebook Pixel
Go to your Pixels tab in Facebook Events Manager.
Click Get Started under Facebook Pixel: Track Website Activities section.

Add your Pixel Name (you can also Enter your website URL to check for easy setup options), then click Continue.
Pike13 will install the pixel for you so you can just click Cancel in this step.
You can find your pixel id at the top of the page. Copy it and we'll use it in the next section.
Install Facebook Pixel in your Pike13 site
At the top of any Pike13 page, click Settings. In the drop-down, choose Apps & Add-ons.

Under the Widgets section, select Facebook Pixel. If you don't see it, contact your account manager.
Put your Facebook Pixel ID in the text box and click Save.

Now you can go back to your Facebook Event Manager and test it.
Events We Track
We install Facebook pixel on all client mode pageviews. We don't track when a staff member is viewing the site or using "see what clients see". So in order to test, you need to log out of your staff account and use a client-only account.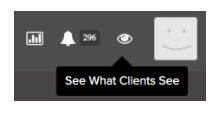 Here is the list of events you can track
Lead - a user creates a new client profile
Purchase - a client makes a new purchase
Schedule - a client books an appointment or enrolls in a class or course
Track other events with Facebook event set up tool
Facebook also offers to set up more events using the event set up tool. You can find more information from this article.
Domain Verification
We do support verifying your subdomain. Please contact your account manager if you want to set it up.
When you add the domain to your Facebook account, make sure to include the subdomain. For example, if your subdomain is "sunflower", you should add it like the screenshot below.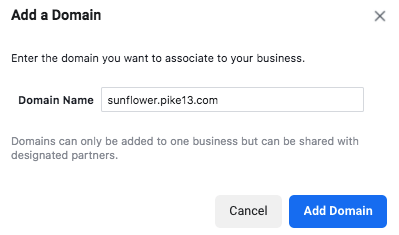 When you contact your account manager, please include the meta-tag so we can embed it to your website. If should look like <meta name="facebook-domain-verification" content="abcde" />.