Who can use this feature?
Pike13 Plan:
✓ Premium
✓ Advanced
✓ Essential
Role:
✓ Primary Owner
✓ Owners
✓ Managers
✓ Staff
✗ Limited Staff
Viewing Client Side Menu
Click on Clients at the top of any page
Choose the Client you wish to view
Go to the right hand menu
From here, staff will be able review:

Client Profile and make changes to their profile by selecting Edit Profile.
Plans & Passes that are Active, Upcoming or Inactive.
Payment Methods to see their credit card or bank information on file.
Sign-in Code to create a new Sign-in Code for the Kiosk.
Recurring Enrollments to see what classes and appointments client is bulk enrolled into. For class enrollments only, staff can remove a client from every class in that series by clicking on the X and confirming cancellation.
Activity to see the client's actions in Pike13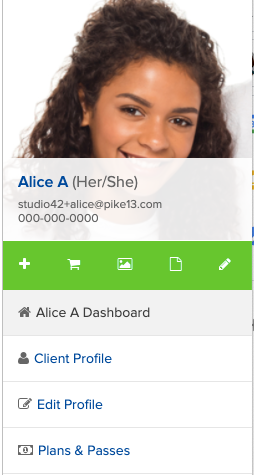 Note
Recurring Enrollments and Staff Permissions
Only Managers and Owners will be able to see "Recurring Enrollments". Staff and Limited staff will not be able to view this option.