Who can use this feature?
Pike13 Plan:
✓ Premium
✓ Advanced
✓ Essential
Role:
✓ Primary Owner
✓ Owners
✓ Managers
✗ Staff
✗ Limited Staff
Configuring your client facing Pike13 Website
Go to Settings at the top of any page then select Pike13 Website.
At the top of the page, you can click on each tab to configure how your website will appear to clients. Once you have made changes, you will see them in the Preview below.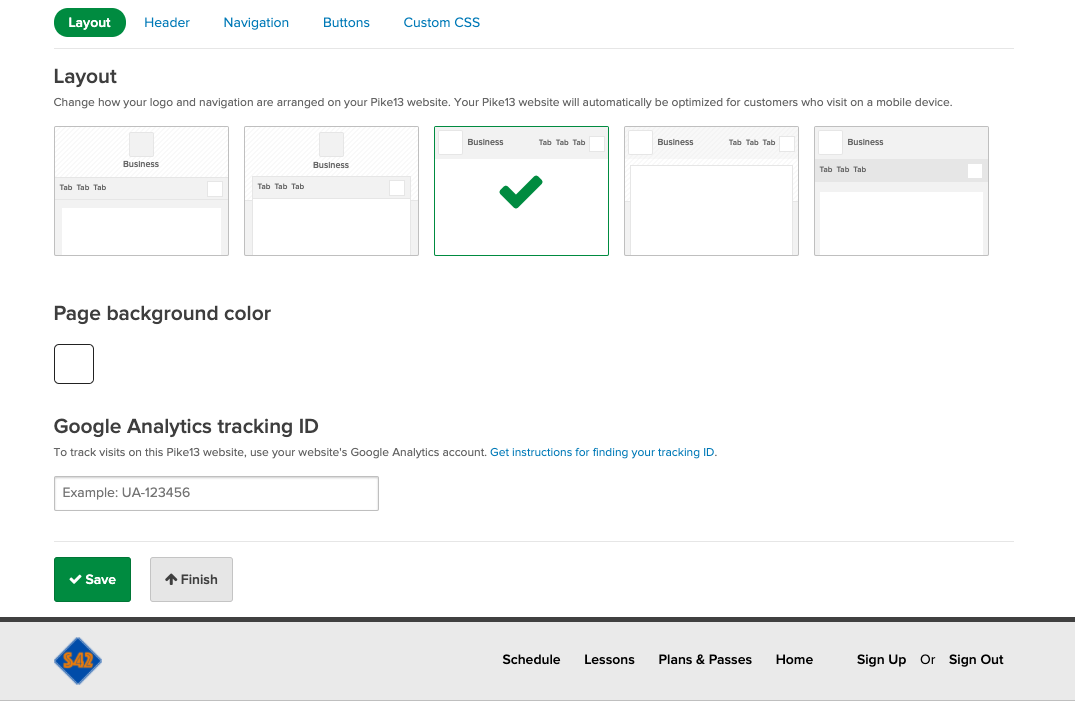 Layout
Select one of the 5 predefined layouts that best works with your logo and navigation preference. Your Pike13 website will automatically be optimized for desktop and mobile devices.
Select the Page Background Color which is the color that appears behind the main page of your Pike13 Website.
Add the Google Analytics tracking ID if your business has the the PRO plan
To track visits on this Pike13 website, use your website's Google Analytics account. Get instructions for finding your tracking ID.
Header
Depending on the layout chosen, you may be able to add a Cover Photo

Recommended image size: 1200x600 pixels
Minimum image size: 600x300 pixels
Maximum file size: 10 MB
Images can be set to Fill (default), Fit, Center or Tile within the header space.

Set a background color that appears behind the cover photo.
Select if your business logo will show within the header space
Select if your business name will show within the header space
Navigation
This section lets you add pages to your Pike13 website that can display specific Pike13 content or link to an external page or custom content.
A list of all of your services
A list of your service categories
A specific service category
A specific service
A list of your passes and plans
A specific plan or pass
Class and course schedule for all locations
A list of your business locations
A list of your staff members
A specific staff member
An external website
A custom page
The first tab listed is considered the home page of your Pike13 Website. The arrows can be used to change the order of the tabs.
Select the Navigation Background Color that appears behind the navigation tabs.
Buttons
Select the Button and Link Colors to match your brand.
Note
Custom CSS
The ability to add custom css to your Pike13 Website is available only with the PRO plan. For more information on this feature, click here.