Want to review what you've done in your account? See your history in the right hand menu.
In this article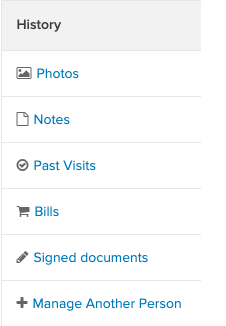 Photos
Upload photos, delete photos and select one to be your Profile Photo.
Notes
View all notes sent to you from staff members.
Past Visits
See a list of previous visits.
Bills
See all of your invoices including open and closed.
Signed documents
To see the waivers, terms and conditions, and other documents you have signed online, go to Signed Documents. Click on the Document and select View as PDF to review the document.
Manage Another Person
For more information on managing a dependent go to Dashboard Side Menu: People You Manage