Who can use this feature?
Pike13 Plan:
✓ Premium
✓ Advanced
✓ Essential
Role:
✓ Primary Owner
✓ Owners
✓ Managers
✓ Staff
✗ Limited Staff
Viewing Client Side Menu: Advanced Actions
Click on Clients at the top of any page
Choose the Client you wish to view
Go to the right hand menu
From here, Managers or higher will be able to:
Resend Welcome Email to allow clients to claim their account
Merge This Person will allow you to combine duplicate accounts
Import Existing Plan or Pass to add a pass or plan to a client's account without creating an initial bill.
Make a client a Staff member creates a staff profile for a client
Make a client a non-client allows a client who is only managing dependents and not enrolling themselves to become a non-client and therefore not have to sign a waiver.
Hide a client removes a client from the client list but they are still searchable
Delete a client will remove all access to the client account.
Allow Developer Access gives access specifically for a web designer. This will allow a client to access your website layout options, colors and navigation.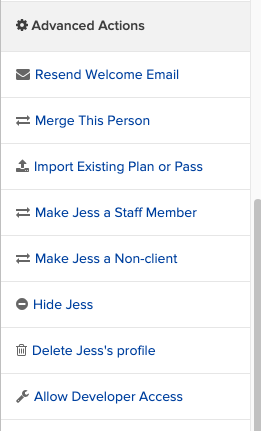 Note
Advanced Actions and Staff Permissions.
Only Managers and Owners will be able to access all of these functions. Staff Members will be limited to resending the welcome email and making a client a non-client.