Who can use this feature?
Pike13 Plan:
✓ Premium
✓ Advanced
✗ Essential
Role:
✓ Primary Owner
✓ Owners
✓ Managers
✗ Staff
✗ Limited Staff
Google Analytics can be used to track the demographics and behavior of your site visitors. With Google Analytics, you can track real-time and historical data on page views, average time on pages, landing and exit pages, browsers and devices used, etc.
In this article
Create a Google Analytics Account
To use Google Analytics for your client-facing Pike13 page you will need to first create a Google Analytics account then add the Google Analytics Tracking ID into your Pike13 site.
To create an account, visit the Google Analytics website, and retrieve your Google Analytics tracking ID.
Install Google Analytics Tracking ID
At the top of any Pike13 page, click Settings. In the drop-down, choose Apps & Add-ons.

In the Widgets section, select Google Analytics. If you do not see this option, contact your account manager.
Enter your Google Analytics Tracking ID in the Account ID text box and click Save.
Trackable Events
In your Google Analytics account, you can also choose to track 4 events. The "Event Action" of these events are
Person Signed Up - "Event Label" is the subdomain
Person Signed In - "Event Label" is the subdomain
Enrollment - "Event Label" is the subdomain and service name split by "|"
Purchase - "Event Label" is the invoice id and "Event Value" is the invoice total amount rounded to an integer
You can find these events under Behavior -> Events -> Top Events -> Event Action.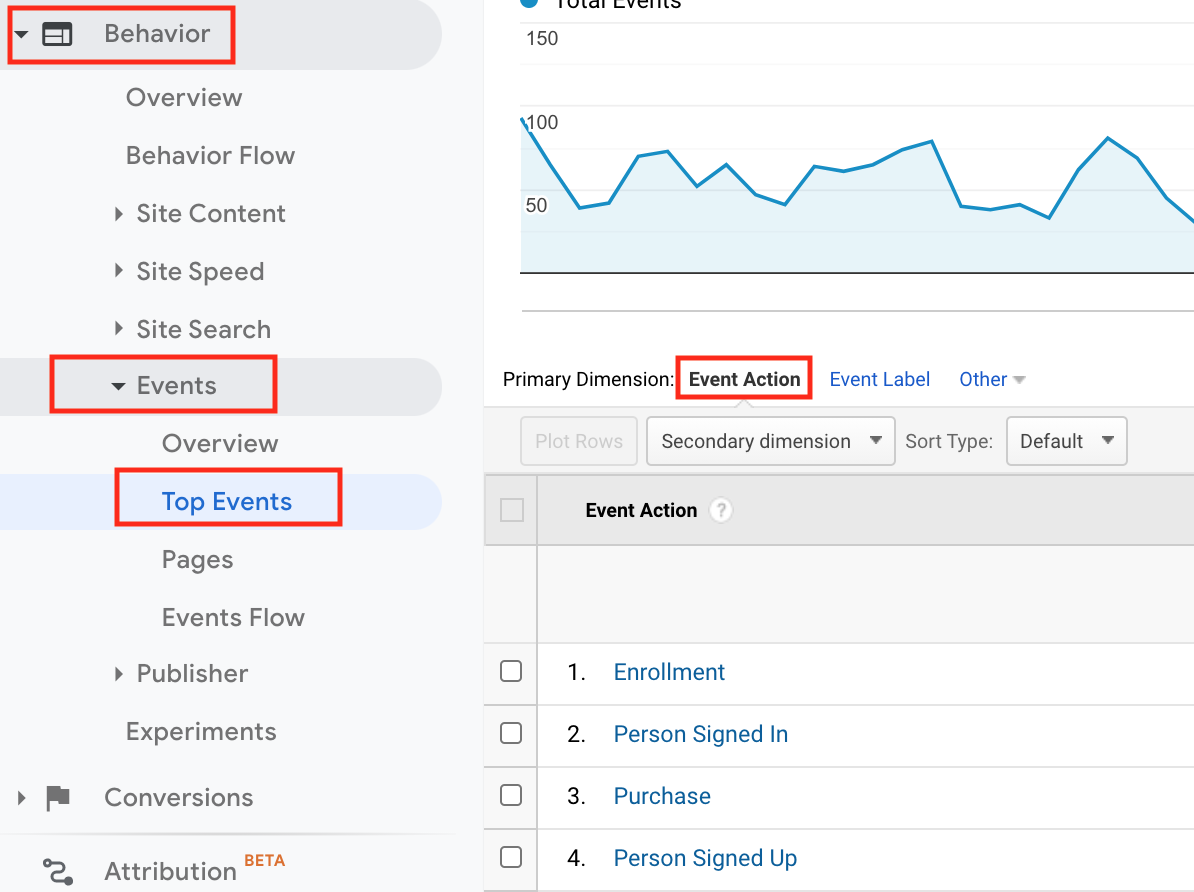 Set up Goals using Events
In your Google Analytics account, you can use events as Goals for conversion tracking.
1. To set this up, go to Admin -> Under View -> Click on Goals

2. Add any of the 4 events as Goals.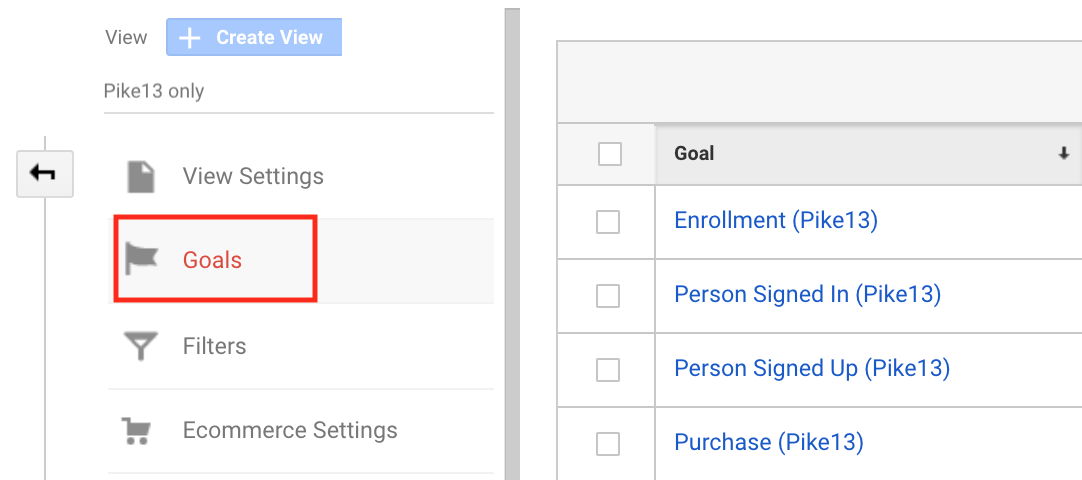 For example, to set up an "Enrollment" Goal. Click on the "+NEW GOAL" button.

3. Under Goal Setup, select "Custom" and then click continue.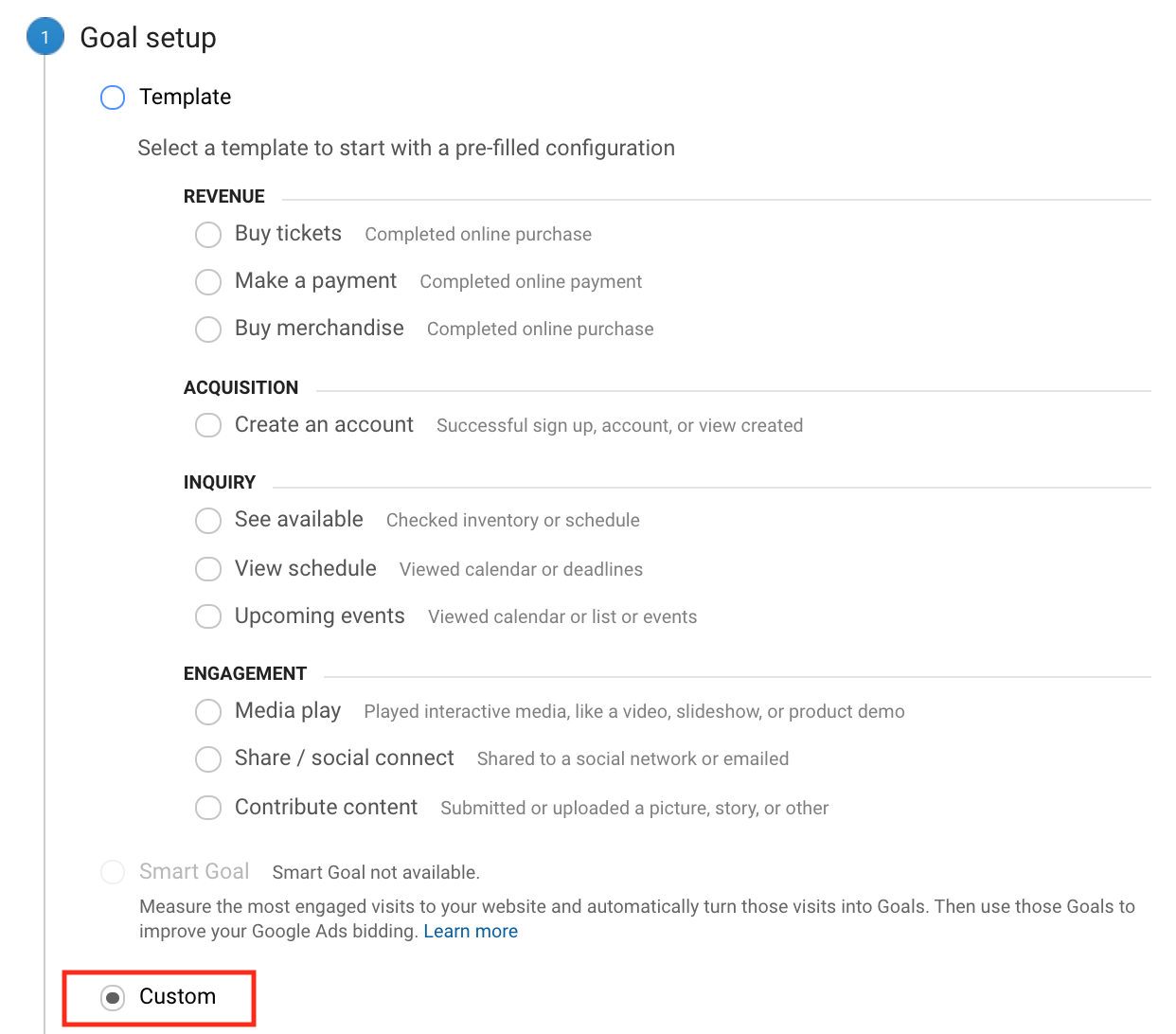 3. Under the Goal description, put in the name of the goal. Here we put "Enrollment" as the name.
4. Choose "Event" under "Type". Click Continue.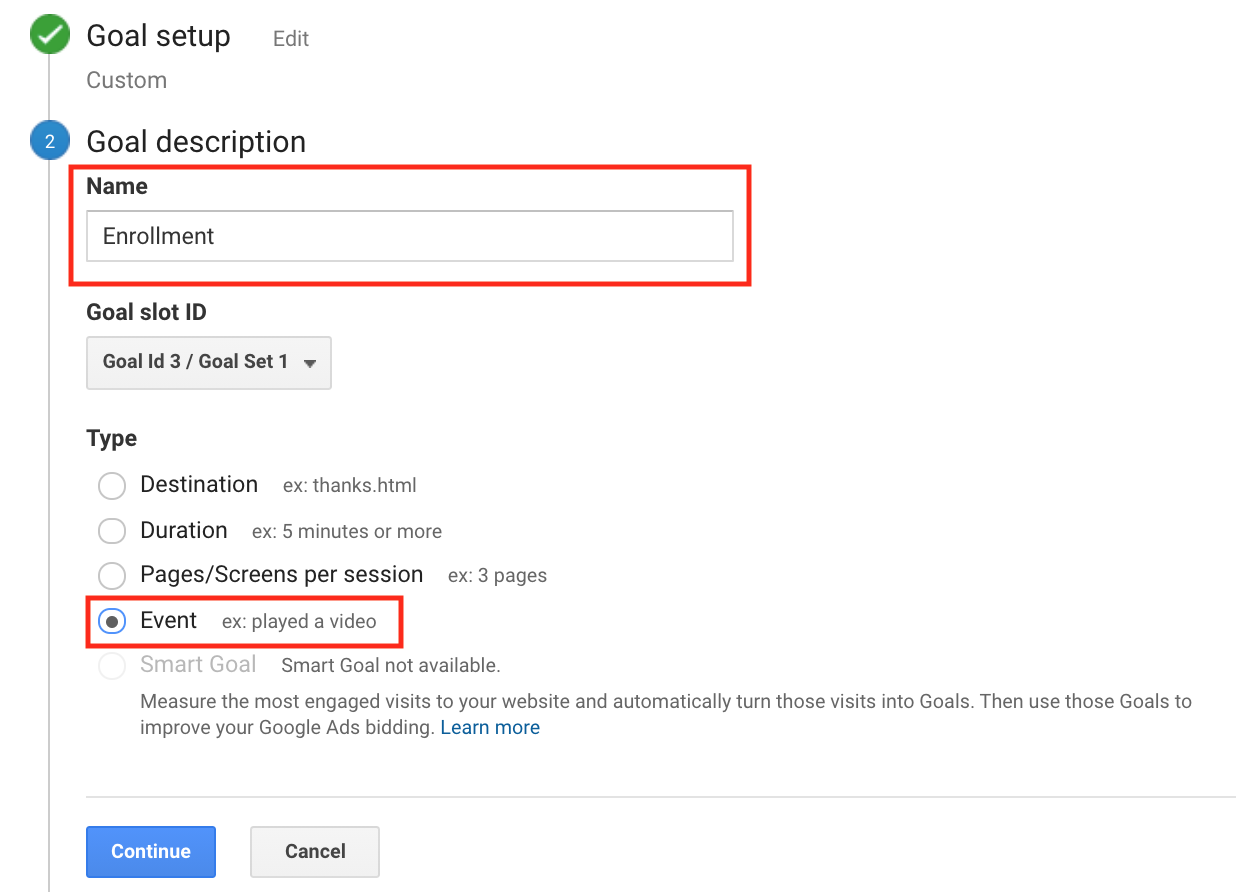 5. Under Goal details, add the correct event action. For example, here we want to only track "Enrollment" actions. Click Save and you are all set.
6. After you started tracking data, you can view the Goal conversion reports under Conversions -> Goals -> Overview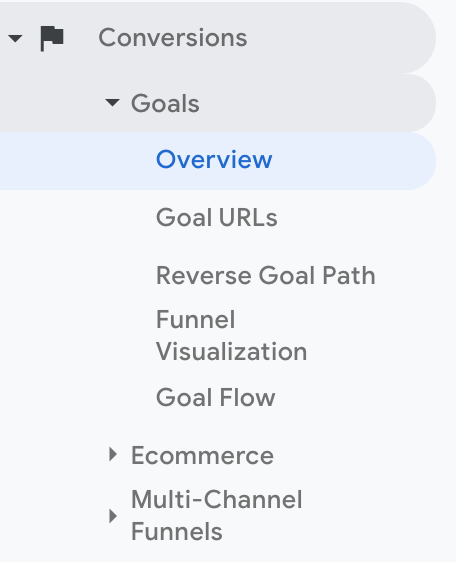 Cross-domain Tracking
In Google Analytics, if you are tracking multiple sites using the same Google Analytics account, and you want to track traffic across multiple domains, we recommend you set up "Cross-domain tracking". A common use case would be to track traffic between your marketing website and your Pike13 site.
More information can be found in the Google documentation - https://support.google.com/analytics/answer/7476333
To add this to your Pike13 website, you will need your marketing website domain, your Google Analytics account id and your tracking code using gtag.js. To add this to your Pike13 website, go to Settings and choose Pike13 Website. Under Layout, add this information here.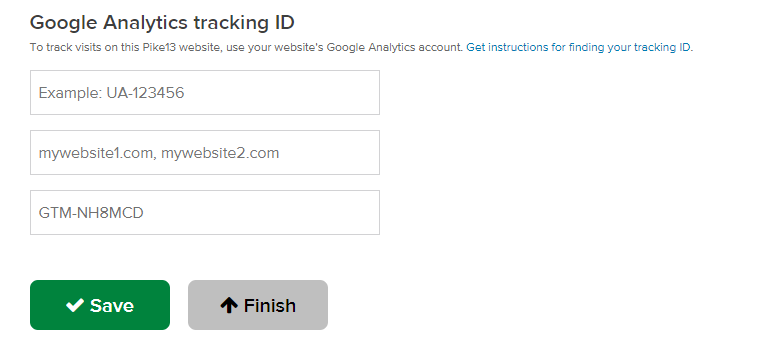 In Google, you can add a view that shows domains and subdomains.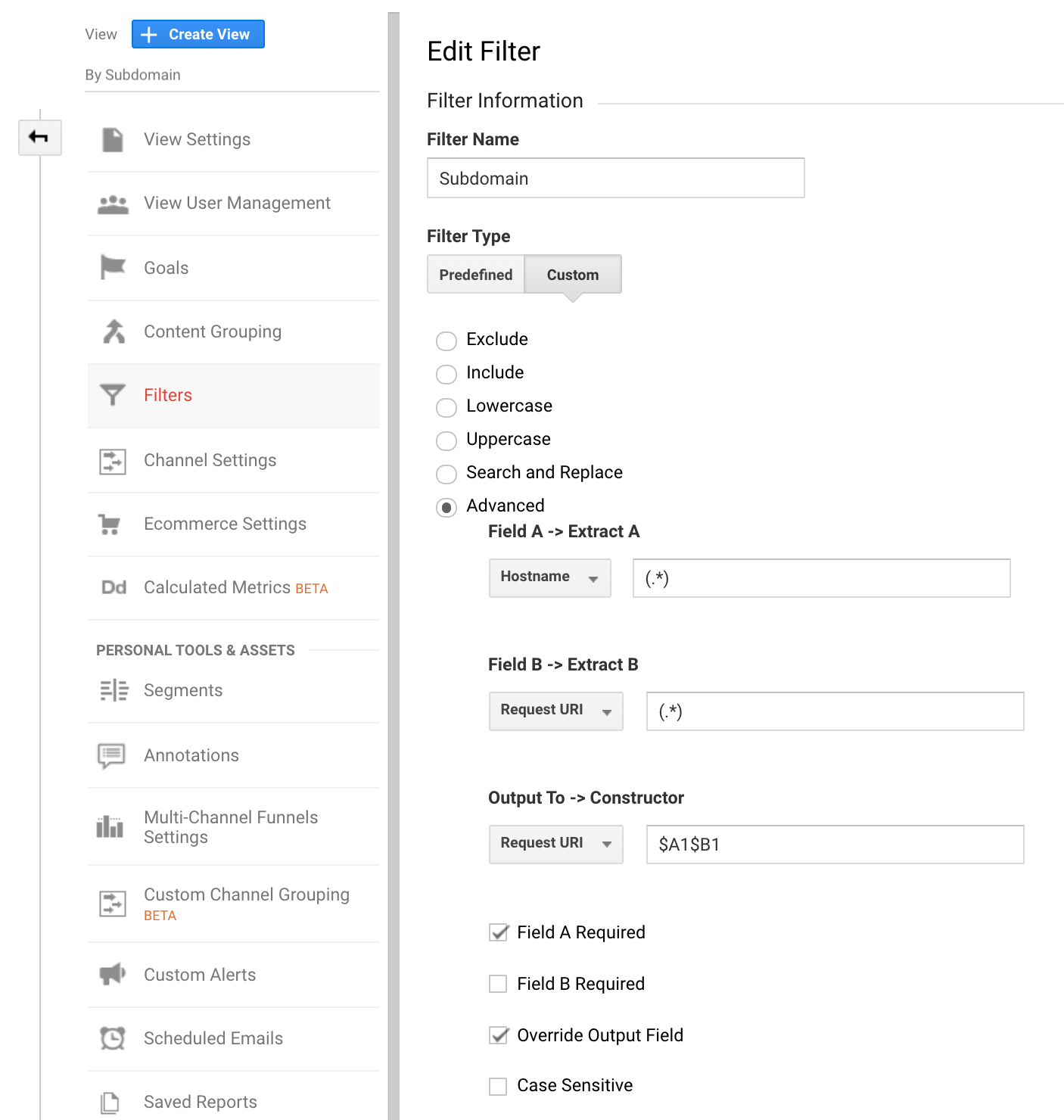 And then under Page report, you will be able to see the domains and subdomains in the reports.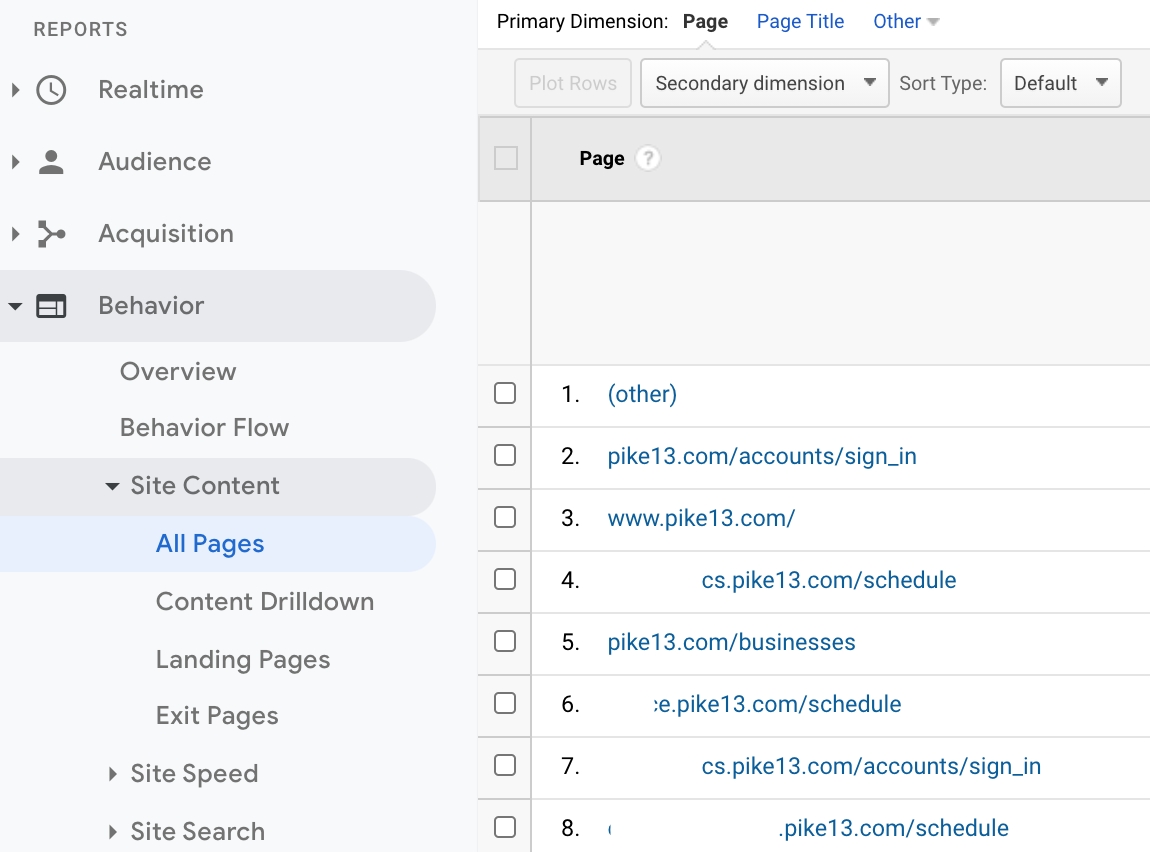 Support for Google Analytics is beyond the scope of Pike13. For more information visit the Google Analytics Support Page