The Client Kiosk is Available for Android Tablets!
In addition to iPads, you can now use Android tablets for client sign up and sign in. The kiosk is supported on tablets using operating systems with a minimum of Jelly Bean 4.1.x API level 16, but we recommend the tablet has an OS of Nougat 7.1 API level 25. You can download the app by going to the Google Play store or clicking here.
*If you are unsure how to see what version your app runs on, follow these instructions:
Go to your apps and search for and select "Settings". Scroll down on the Settings screen and look for an "About tablet" option. You will usually find this at the very bottom of the main Settings screen, under System.
Please see our articles on the Kiosk App and How do clients sign up and in on the Pike13 Client Kiosk? for more information!
Unpaid Visits and Past Visit View in Client Profile
We have changed the way unpaid visits are shown in client profiles. Previously we listed up to six on the client's dashboard with a link to more if applicable. Now we will show the number of unpaid visits: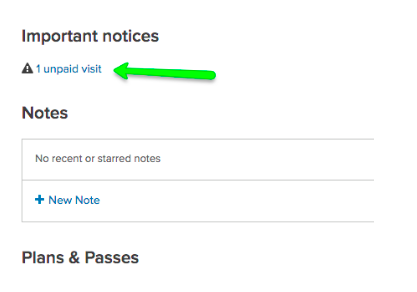 Once you click on the notice, it will take you to a new view that shows the unpaid visits in one place. In addition to this change, we have formatted past visits into five categories: All, Complete, Unpaid, Incomplete, and Late Cancel/No Show. This change allows you to have quicker access to the different types of unpaid visits.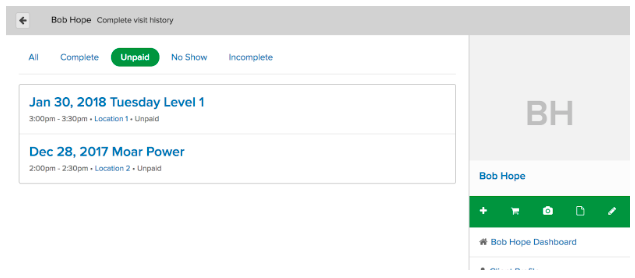 On the mobile version of the site, you will see icons instead of text: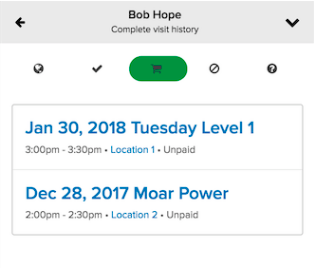 Preferred Plan or Pass Email Depreciated
We have deleted the email that was sent out to clients letting them know when their preferred plan or pass was not used for a visit. As many of you know, this email caused a lot of confusion for staff members and your customers and changing the "preferred" plan was not easy to do! Our hope is that this will alleviate some of the inquiries you receive from your clients.