If you require new clients to sign a waiver, Pike13 brings them to the document when they first sign in to your Pike13 website. For existing clients without a waiver, an email reminder to sign, which includes a link to the document, is sent to them 24 hours before any scheduled service. If you see that they haven't signed the document, you also can send them an email reminder to do so anytime. 
You are notified if a client hasn't signed a waiver when they enroll in a class. When a client signs into the class, the notification "Waiver not signed" appears at the top of the class roster and next to their name.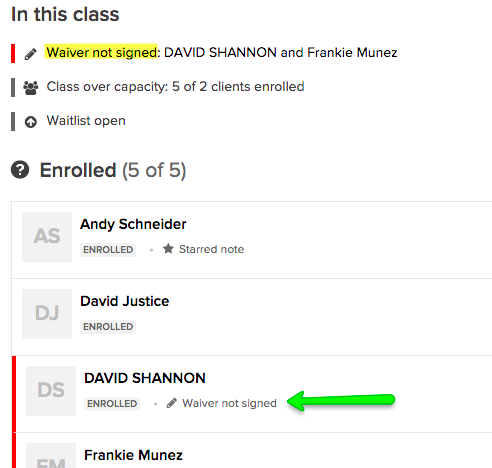 In some cases, clients might have signed a paper copy of the document. In these cases, you can mark them as signed offline.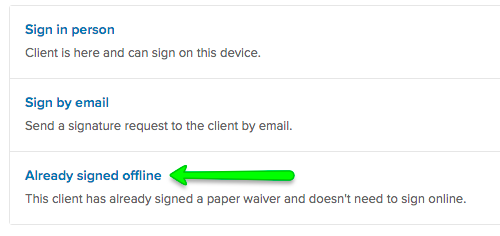 If your business has clients under 18 years of age, you can create the guardian waiver in Pike13. Account managers will be required to sign for their dependents. When guardian waivers are in place, the birthdate is a requirement so the system knows what waiver needs to be signed and by whom.
Miscellaneous documents like contracts or membership agreements can also be created in Pike13. Please note, these are not automatic documents and alerts will not appear in the rosters. 
Help a client sign a document
At the top of any Pike13 page, tap Clients.

In the Clients list, tap the client's name.

In the right menu of the client's dashboard, tap Signed documents.

On the Signed documents page, tap Sign a Document or Sign Another Document.

Under Choose a document, tap the document your client needs to sign.

Do one of the following:
To open the online document for signing on a mobile device, tap Sign in person.

To email the client a reminder that includes a link to the online document, tap Sign by email.

To confirm that the client has signed on paper, tap Already signed offline, and then tap OK.
When the client signs the waiver, a confirmation email is sent to the client's email address.
Tip  Your client can review their signed documents anytime by signing in to your Pike13 business, going to their client dashboard, and in the right menu tapping Signed documents.
See also