Who can use this feature?
Pike13 Plan:
✓ Enterprise

✓ Pro

 

✗ Business
Role:
| | | | | |
| --- | --- | --- | --- | --- |
| ✓ Primary Owner | ✓ Owners | ✓ Managers | ✓ Staff | ✗ Limited Staff |
Waivers are a requirement as new clients create their profiles if you have them enabled on your Pike13 site. Existing clients that have not yet signed one will be required to do so when they log into the site as well. However, if someone has not signed their waiver and is attending class, you have a couple ways to collect their signature.
You can see if a client has an unsigned waiver or terms and conditions from the roster or their profile. Waiver not signed and Terms and conditions not accepted will appear at the top of the roster and next to their name: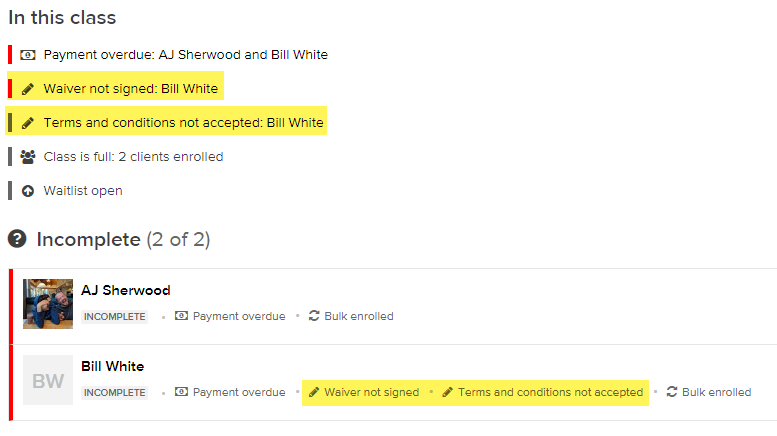 To collect the signature, you have three options. You can collect the signature in person on your device, send the document to them via email, or acknowledge that it was signed offline. This comes in handy when clients prefer to sign a paper copy of the document.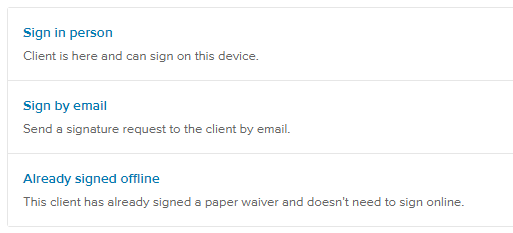 If your business has clients under the age of majority (default 18 years old), the guardian waiver will need to be signed. Account managers will be required to sign for their dependents upon logging into Pike13. A birth date is a requirement so the system knows what waiver needs to be signed and by whom.
---
Collect a Signature for a Miscellaneous Document
Go to Clients

Search for and select the client's name

In the right menu of the client's dashboard, choose Signed documents.

Select Sign a Document or Sign Another Document.

Choose the document that needs a signature

Do one of the following:
To open the online document for signing on a mobile device, tap Sign in person

To email the client a reminder that includes a link to the online document, tap Sign by email

To confirm that the client has signed on paper, tap Already signed offline, and then tap OK
Tip  Your client can review their signed documents anytime by signing in to your Pike13 business, going to their client dashboard, and in the right menu tapping Signed documents.
See also